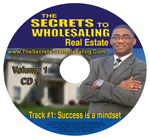 CD#1 "Success is a mind set" & "Setting goals and plan of action"
This CD uncovers the mind set that is necessary to be successful. You'll learn how to drill down to the core of your motivations. You will quickly understand the real reason why you're taking this program. Hint: It's not for the money.
In this section I'll explain why if you think you're in the real estate business you're dead wrong.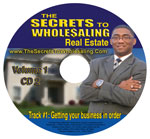 CD#2 "Getting your business in order"
Listen as I share an easy to follow system that organizes your tasks & activities. In this CD you'll also learn why you should NEVER buy property in your name and what entity to use. This CD will show you how to manage the business side of real estate investing.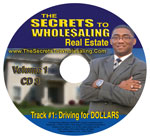 CD#3 "Driving for dollars"
No fluff or theory here in this CD I'll tell you exactly where to find hundreds of wholesale deals. Next you'll learn the inside secrets to identifying properties 30-40 cents on a dollar. After listening to this most powerful CD you'll be able to spot diamonds in the rough where the uglier the better.
CD #4 "Finding the owner"
In this crucial CD I'll uncover the top 4 ways to find the owner of any property. In less than 5 minutes you'll know the "tricks of the trade" on how to locate hard to find owners. These closely guarded secrets will put thousands of dollars in your pocket. If you can't find the owner you can't buy it.
CD#5 "Contacting the owner"
Now you've found the owner, what do I say? I'll give you exactly what to say and how to talk to get them on your side. You will hear an actual live demo that I do. After this revealing lesson you'll have them telling you everything you need to know. With these secrets the owner will tell you exactly how to buy their property. By using my K.I.T system you will be in the top 10% of investors and increase your income by at least 30%.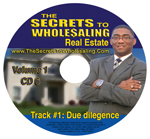 CD#6 "Due diligence"
This CD explains the formula in details on how to determine the true value of any property in a manner of minutes. You'll be able to uncover any hidden problems and know how to solve them fast. By the end of this lesson you will know how to estimate repairs right down to the penny ever time.
This most critical area will make or break you as an investor. I will walk you through every step to assure that never happens.
CD#7 "Offer & Negotiations"
You'll discover the most essential steps in making offers & negotiations. This CD will teach you how to put the owner first making every deal a win/win situation or walk away. You'll learn never to take advantage of anyone. I'll show you why making a verbal agreement must be a part of every offer.
Learn the magic formula that will assure you don't pay too much for any property.
CD#8 "How to write a contract" "Getting the right title co." "Signed offer now what" " Simultaneous closing"
In this CD I'll show you the critical elements of writing a contact. My program takes the fear out of writing offers with my easy to fill out 1 page contract. You'll discover how to find an investor friendly title company. You'll also learn what to do after you get a signed offer. I reveal my secret of how to get extra money out of every deal.
To end, I'll divulge the formula to setting up a successful simultaneous closing.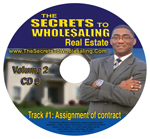 CD#9 "Assignment of contract"
I'll give you the outline of when not to use an assignment of contract. When is it OK to assign your contract. Why is it instant death to let your investor know how much money your making. You'll discover how to use my "investor reward system" that will have investors begging you for deals.
CD#10 "What if i can't find an investor"
No one ever talks about this stuff yet it's a major factor that separate the winners from losing in this industry. If you can't find an investor, what do I do? Don't panic. This CD I'll show you how to find the reason why an investor won't buy your property and how to solve it. And if you still can't sell it what should you tell the owner.
CD #11 "How to assure nothing goes wrong"
This CD alone will make you several thousand of dollars. These secrets will show you how to close deals other can't. I'll show you how to avoid the mistakes that newbies make costing them thousands of dollars.
At this point you will be armed with the exact ways to keep your deals from going wrong.
Bonus CD "Working with real estate agents"
After listening to this CD you will discover the little know ways of working with real estate agents. I'll uncover exactly how to think like one of them so they'll give you 10-20 leads a month. Why real estate agents can be one of your best sources of cash rich deals.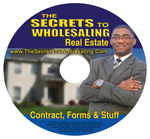 CD "Contract, Forms& Stuff"
On this CD you'll have at your fingertip everything you need to run your successful real estate business, make offers and organize all the many parts of a deal. Look at all the tools you'll get customized especially for this system: investor buyer/seller purchase contracts, assignment contract, property assessment form, marketing tracking form, daily call tracking sheet, contact information sheet, letter of authorization, property due diligence form, property prospect list, pipeline sheet, offer tracking form, lead tracking sheet and a bunch of other forms you'll need as you become more success as a real estate investor.